Having a Winnie The Pooh Birthday party? We made editable Winnie The Pooh Birthday invitation template just for you.
Organizing a Winnie the Pooh themed party can be a lot of fun! Here are some ideas to get you started:
Invitations: Create invitations in the shape of a honey pot or use Winnie the Pooh and his friends as the main characters on the invitation. You could also use a quote from the books, like "We'll be friends forever, won't we, Pooh?".
Decorations: Use decorations in the colors of Winnie the Pooh's outfit: red and yellow. You could use balloons, streamers, and tablecloths in these colors. Set up a "Hundred Acre Wood" backdrop or cutouts of the characters.
Food: Serve honey sandwiches, honeycomb cereal, or fruit skewers with honey drizzled on top. For the cake, make a Winnie the Pooh cake or cupcakes with honeycomb decorations.
Activities: Set up a honey pot pinata or a "Pin the Tail on Eeyore" game. Have a Winnie the Pooh story time, or put on a Winnie the Pooh movie for the kids to watch.
Favors: Send guests home with honey sticks or Winnie the Pooh-themed treats, like gummy bears or chocolate honeycomb candy.
We from INVITATION WORLD made these free printable Winnie The Pooh Birthday party invitation cards just for you.
Your small ones and his friends will be happy when they see our Winnie The Pooh invitations in their hands.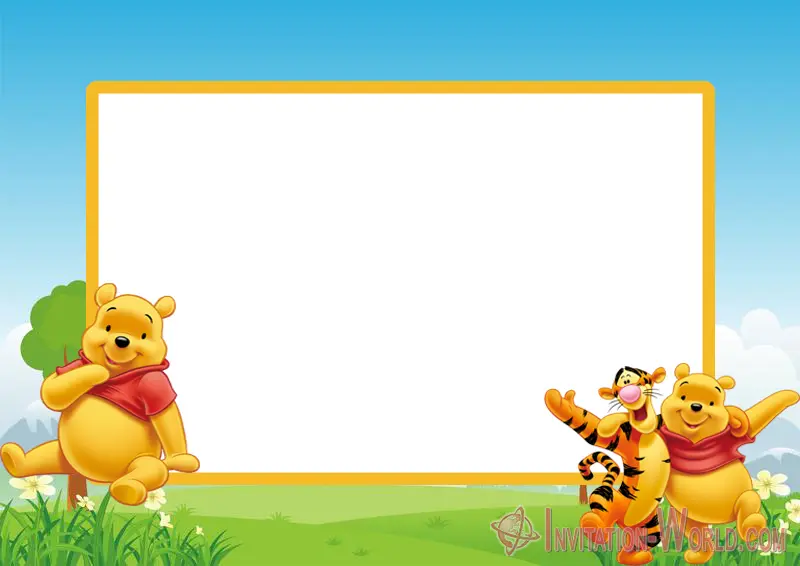 Want Lumpy, Pooh, Piglet, Tigger, Rabbit and many more of the Winne The Pooh characters on your custom invitation cards.