Minecraft is a wildly popular video game that has captured the hearts of players of all ages. If you're planning a Minecraft-themed birthday party for your child or for yourself, creating personalized invitations is a great way to set the tone for the event.
Looking for free Minecraft birthday party invitations? Luckily, we have many free printable Minecraft invitation templates available that can be easily downloaded and customized to fit your specific party needs.
Another great thing about free Minecraft invitation templates is that they are incredibly versatile. They can be used for a variety of different types of events, from children's birthday parties to adult gatherings. They also work well for both casual and formal events, and can be easily customized to match the style and theme of your event.
When choosing a Minecraft invitation template, there are a few key things to keep in mind. Firstly, you should consider the age and interests of the guests you are inviting, as well as the overall theme of the party. Some popular designs include characters from the game such as Steve, Creeper, Enderman, and more. You can also choose from different backgrounds like minecraft world, minecart, etc.
Once you have chosen a template, it's time to customize it to fit your party. You can add your own text, images, and even change the color scheme to match the theme of your event. You can also use online tools to edit the template.
When it comes to printing your invitations, you can print them and you can also send them as digital invitations via email or social media.
In conclusion, free Minecraft invitation templates are a great way to create personalized invitations for your next party. They are easy to use, versatile, and affordable, making them the perfect choice for anyone planning a Minecraft-themed event. With a wide range of designs and styles to choose from, you're sure to find the perfect template to match the theme of your event.
Minecraft invitation templates are a perfect beginning for your Minecraft themed party. hese online templates are 100% free to download and use.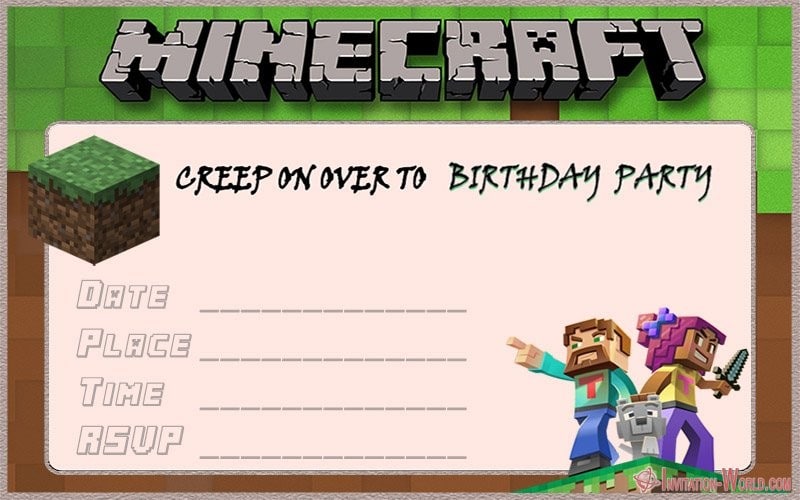 Choose from one of our many free invitation designs and design-your-own birthday invitation. Our templates are designed to be easy to customize and personalize.
One of the most popular ways to create Minecraft invitations is by using free templates found online. We have 12 best templates for free printable Minecraft invitation cards for baby shower or birthay party. These templates can be easily edited. You can customize the template by adding your party details, such as the date, time, location, RSVP information.own and your images or text, if desired.
Create the perfect Minecraft invitations and send them to your family and friends.