Swing to our Spiderman Birthday party and help us celebrate all together. Get your son these free online Spiderman invitations and he will be so pumped up about his birthday.
If you are planning a Spider-Man themed party or event, using a Spider-Man invitation template can be a great way to set the tone and get your guests excited about the event.
Spider-Man is a beloved Web-Slinging Superhero known for his quick wit, agility, and spider-like abilities. The character of Spider-Man is Peter Parker, a high school student who was bitten by a radioactive spider, which gave him spider-like abilities. Peter gains the ability to climb walls, superhuman strength and agility, and the ability to shoot webs from devices he invented called "web-shooters." With these abilities, Peter becomes the superhero Spider-Man, donning a red and blue costume and mask to hide his identity.
One of the defining characteristics of Spider-Man is his relatability. Unlike many other superheroes, Peter Parker faces real-life problems in addition to fighting crime. He struggles to balance his superhero responsibilities with his personal life, including school, work, and relationships. This humanizes the character, making him more accessible to readers and fans.
Spider-Man has appeared in various forms of media, including comic books, television shows, movies, and video games. One of the most popular iterations of Spider-Man is the 2018 animated film "Spider-Man: Into the Spider-Verse," which introduced fans to the concept of the multiverse and featured a diverse cast of Spider-People.
Another popular adaptation is the "Spider-Man" trilogy directed by Sam Raimi, which starred Tobey Maguire as Peter Parker/Spider-Man. The trilogy, which was released between 2002 and 2007, was a critical and commercial success and is often credited with popularizing superhero movies.
More recently, Spider-Man has been a part of the Marvel Cinematic Universe (MCU). Actor Tom Holland portrays the character in the films "Spider-Man: Homecoming" (2017), "Spider-Man: Far From Home" (2019), and "Spider-Man: No Way Home" (2021). Holland's portrayal of Spider-Man has been praised for his youthful energy and comedic timing.
In addition to the movies, Spider-Man has also been a popular character in video games. One of the most acclaimed Spider-Man games is "Marvel's Spider-Man" for the PlayStation 4, which was released in 2018. The game features an open-world New York City, where players can swing through the city as Spider-Man, fight crime, and explore Peter Parker's personal life.
Spider-Man is a beloved superhero with a rich history and a strong following. He continues to be a cultural icon and an inspiration to fans of all ages.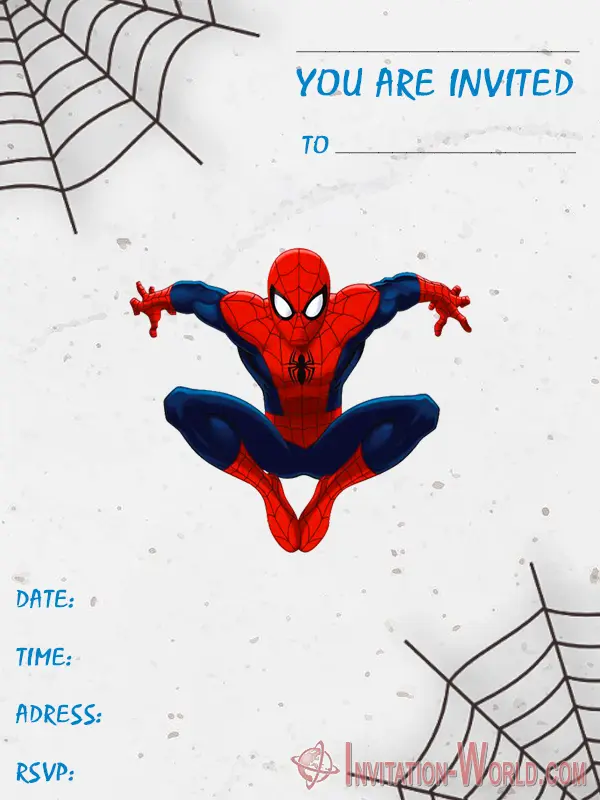 Throwing a Spiderman theme party after corona virus? We from INVITATION WORLD made many Spiderman Invitation cards for your loved ones.
Here are the steps to use a Spider-Man invitation template:
Choose a template
Download the template: Once you've chosen your template, download it to your computer
Edit the template: Open the template and edit the text to include the details of your party, such as the date, time, location, and RSVP information. You can also add any additional information you want your guests to know
Customize the design: Depending on the template you've chosen, you may be able to customize the design. This can include changing the colors, fonts, or adding your own images
Print or send the invitations: Once you are happy with the design and information, you can print the invitations on your own printer or send them digitally to your guests.
Using a Spider-Man invitation template is a fun and easy way to create customized invitations for your party or event. It can save you time and effort while still creating a professional and exciting invitation for your guests.