Create a lovely party invitation card with Dr. Seuss theme. You can use these free templates to make Dr. Seuss baby shower invitations or Dr. Seuss birthday invitations.
Dr. Seuss, whose real name was Theodor Geisel, created many beloved cartoon characters in his books. Some of his most famous characters include: The Cat in the Hat, Horton the Elephant, The Grinch, Sam-I-Am from "Green Eggs and Ham", Thing One and Thing Two from "The Cat in the Hat", Yertle the Turtle, The Lorax and many others.
These characters and others have captured the imaginations of generations of children with their whimsical, colorful designs and quirky personalities. If you are planning a dr. Seuss themed party, you will definitely need to create beautiful party invitations.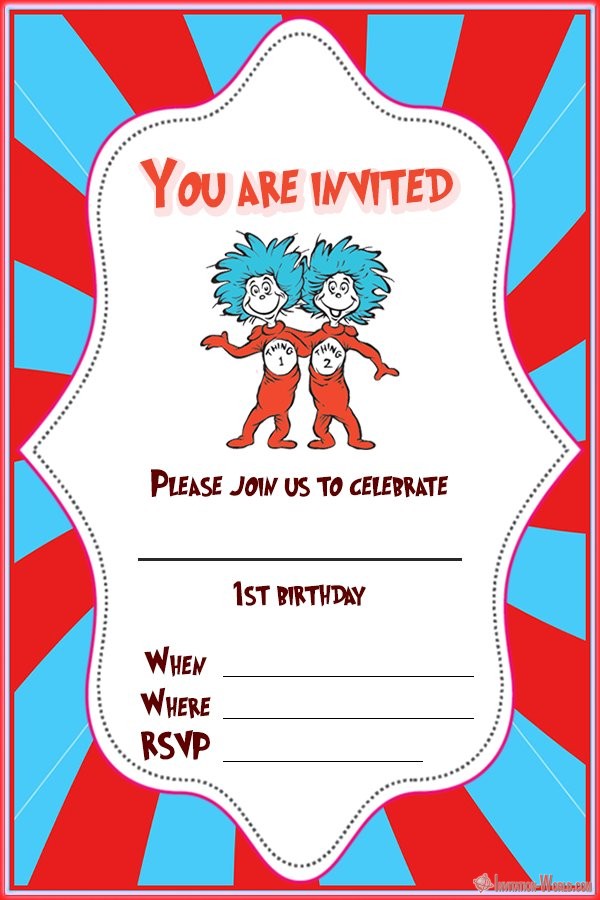 To create a Dr. Seuss-inspired invitation with whimsical illustrations you can edit free printable templates and follow these steps:
Write your invitation wording: Use the Dr. Seuss font to write your invitation wording. Keep it playful and fun, and try to incorporate rhymes or alliteration like Dr. Seuss does in his books.
For example, you could write something like, "Join us for some fun, we promise it won't be done. It's a party, you see, inspired by Dr. Seuss and you're invited, oh me, oh my!"
Print and distribute or send invitations online once you're happy with your design. Remember to have fun with your Dr. Seuss-inspired invitation and let your imagination run wild!
A Dr. Seuss party theme is a fun and colorful way to celebrate any occasion, whether it's a birthday, baby shower, or just a fun gathering with friends. Here are some ideas, besides invitations, to help you plan your Dr. Seuss party.
Decorations: Fill your party space with bright and bold colors, just like the illustrations in Dr. Seuss books. Hang streamers and balloons in red, blue, green, and yellow. Use cutouts of Dr. Seuss characters to decorate the walls and tables.
Food and drinks: Serve food and drinks that are inspired by Dr. Seuss's books, such as green eggs and ham (deviled eggs with green food coloring and a slice of ham), truffula tree cupcakes (cupcakes with cotton candy "trees" on top), or Cat in the Hat fruit skewers (red and white fruits like strawberries and bananas on skewers). You can also make a colorful punch with different juices and soda.
Games and activities: Set up a Dr. Seuss-themed activity station, such as a coloring table with Dr. Seuss coloring pages, a pin-the-tail-on-the-Grinch game, or a photo booth with props like Cat in the Hat hats and Lorax mustaches.
Costumes: Encourage your guests to come dressed as their favorite Dr. Seuss character, or provide hats and accessories for them to wear during the party.
Music: Play music from Dr. Seuss movies or other upbeat, kid-friendly tunes to keep the party lively.
With these ideas and your own creativity, you can create a fun and memorable Dr. Seuss party that everyone will enjoy.