These are my first template designs. Add the appropriate wordings and photo and enjoy your unique Paw Patrol birthday invitation.
Paw Patrol is a popular animated television series for children that features a group of rescue dogs who go on exciting adventures in the fictional town of Adventure Bay. The show follows a young boy named Ryder, who leads the team of dogs, each with their unique set of skills and abilities, as they work together to solve problems, rescue people in need, and protect their community. The Paw Patrol team consists of characters such as Chase, Marshall, Skye, Rubble, Rocky, Zuma, and Everest, and they are often aided by Ryder's tech-savvy friend, Katie. The show is known for its educational and positive messages about teamwork, problem-solving, and community service, and it has become a beloved franchise with merchandise, books, and live shows based on the show.
Personalize Invitations: Add a personal touch to the invitations by including a photo of the guest alongside the Paw Patrol characters, or by adding a personalized message to each invitation.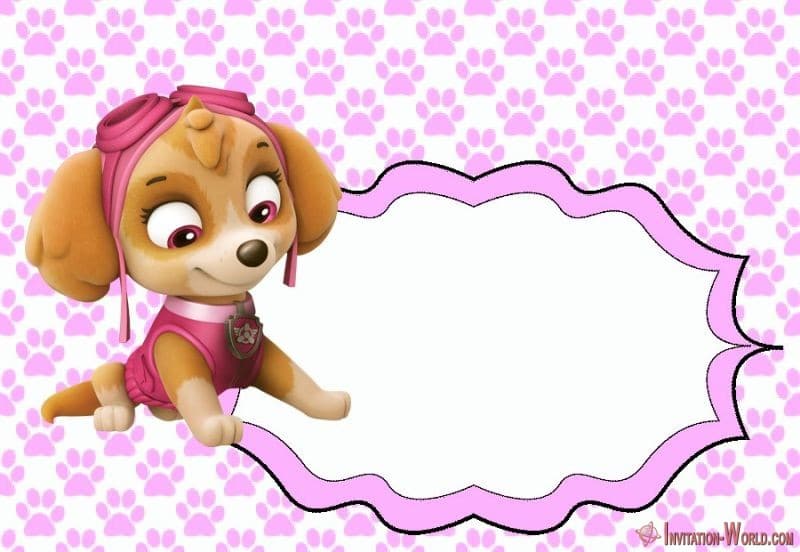 Here are some creative Paw Patrol birthday invitation wording ideas to use on these editable invitations:
Calling all pups! Join us for [Name]'s Paw Patrol birthday party! It's going to be a barking good time!
Pawsome news! [Name] is turning [age] and we're having a Paw Patrol birthday party to celebrate! Join us for treats, games, and lots of fun!
It's time to get your tails wagging! [Name] is having a Paw Patrol birthday party and we want you to be there! Join us for a day of adventure and fun!
Ready, set, go! [Name]'s Paw Patrol party is just around the corner and we need all our pup friends to be there! There will be games, treats, and lots of Paw Patrol fun!
Woof, woof! You're invited to [Name]'s Paw Patrol birthday party! Let's celebrate with our favorite furry friends and have a pawsome time!
It's a Paw Patrol party and you're invited! [Name] is turning [age] and we're celebrating with all our favorite pups! Join us for an adventure-filled day!
Get your Paw Patrol gear ready! [Name] is having a birthday party and it's all about the pups! Come join us for a fun-filled day of games, treats, and Paw Patrol fun!
It's time to celebrate [Name]'s birthday with a Paw Patrol party! Join us for a day of adventure and excitement as we hang out with our favorite pups!
Remember to include all the important details like the date, time, location, and RSVP information. You can also add a fun tagline at the end, like "Let's pup and party!" or "Don't forget to bring your wagging tails!" to make the invitation even more playful and engaging.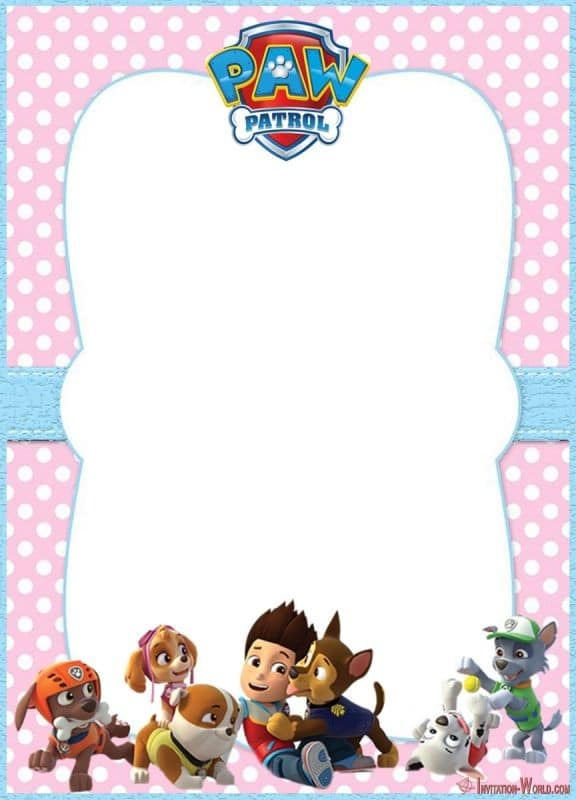 With a little creativity, you can make a Paw Patrol party invitation that is sure to impress your guests and get them excited for the big day!